Design Your Own Log Cabin
Design Your Own personalised garden log cabin in just 6 easy steps with our unique system:
1 – Choose Your Log Thickness:
You have a choice of 44mm or 70mm double tongue and groove wall logs.
2 – Choose Your Size:
Pick the width (across the top) and depth (down the side).
3.1m x 3.1m
3.1m x 4m
3.1m x 5m
4m x 3.1m
4m x 4m
4m x 5m
5m x 3.1m
5m x 4m
5m x 5m
70mm log cabins will be 4.8m instead of 5m due to limited lengths in this thickness.
All sizes are external and measurements are in metres.
3 – Choose Your Roof Style:
Apex Full Front 
As you look at the front of the log cabin, the apex (or gables) will be on the front and back.
Apex Side
As you look at the front of the log cabin, the apex (or gables) will be on the right and left hand sides.
Pent
A single pitched roof with a small slope running from front to back
APent
An offset apex (gable) on the left and right hand sides so the front section of the roof is high pitched and the back section is low pitched.
4 – Choose Your Doors And Windows:
Single Door
Available in full glazed, half glazed and solid.
Right hand hinged as standard, left hand hinged on request.
Double Door
Available in full glazed, half glazed and solid.
Master door right hand side.
Single Window
Available in standard opening, 3/4 opening and 3/4 fixed.
Standard = 7 logs high, 3/4 = 10 logs high.
Double Window
Both sections opening.
Standard = 7 logs high.
Fixed Full Glazed Window
Both panels fixed.
5 – Add Extras:
Below you will find a number of extras that you can add on to your design your own log cabin to personalise it.
Extra windows
You can add extra windows to the sides and back to let in extra light.
Roof Shingles
You will need to waterproof your roof.
IKO Armourshield hexagonal roof shingles.
Bitumen layer on the back that heats up in the sun.
Choice of red, green or black.
If you don't have roof shingles your log cabin will not come with a roof covering so you will need to fit your own product.
Construction
Save time and effort by letting our experienced team construct your log cabin for you.
The price for construction includes all fixings.
If you are buying for self build you will need to supply your own nails/screws etc.
Partition
Create a second room.
Partitions are made from the same wall logs as the rest of the cabin and are interlocked at the corners at each side.
Veranda
Most the most of your garden with a veranda to sit out on.
Made from the same wall logs as the rest of the log cabin.
Tanalised decking on floor.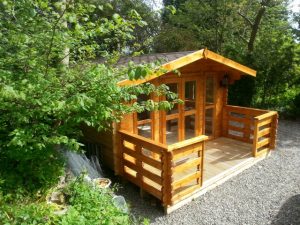 Window Box
Add some colour with these 44mm thick planters.
Guttering
Control the rain water
Black mini-line guttering
Apex Full Front/Apex Side – 2 sides.
Pent/Apent – back only.
Roof Shingle Underlay
IKO Armourbase Pro underlay.
Lightweight breathable membrane.
Back-up protection for your roof.
Compulsory with roof insulation.
Roof Insulation
Stop warm air escaping through the roof.
Superquilt insulation rolls.
Fitted internally with a secondary roof to cover the material.
Floor Insulation
Prevent cold air coming up through the floor.
50mm thick insulation boards.
Fitted under the floor.
Bar
Made from the same wall logs.
Perfect for fun nights in with friends.
Picnic Bench
Made from chunky wood for hours of fun with the family.
6 – Contact Us For A Quote 
Tell us what your Design Your Own log cabin is going to look like so we can put together a quote for you.
There are 2 options for getting in touch with us.
You can…
Call us on 01270 756698
or
Fill in all the details on the contact form below.